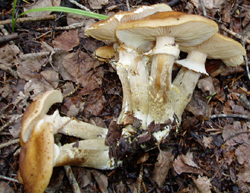 Novice Mycophagist #3
by Rick Robinson

Last year, while walking our southern property at Sand Creek Park, I found a dead, fallen Aspen tree that had a few oyster mushrooms growing on it. It was mid-August, I think, and the mushrooms were well beyond their prime. So, I made a mental note to check the tree, which I dubbed "Oyster Tree" (I have a habit of naming things on the land-there is Picnic Rock, Bart's Creek, Dick the Tree, and so forth), the next year.



Full Story Click Here...