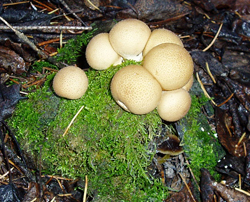 The Way of the Wild Mushroom
My first encounter with "mushroom pickers" was not by design. I arrived at a normally deserted campground in the Sierra Nevada, one that I have used annually for a spring mushroom workshop, only to find it occupied by a weather-beaten band of migrant mushroom pickers—three adults, four children, and assorted dogs and cats that lived and traveled in a 30-year-old school bus. They had been "sitting on the burn" (a nearby burned area) for more than a month waiting for conditions to produce a profitable flush of morels. Having seen sensationalized newspaper accounts of overly territorial, gun-toting mushroom pickers, I was surprised that they didn't try to chase us off. At the very least I expected them to resent the sudden intrusion and competition that my class of 35 citified adults (and nearly as many SUVs) represented. More...

Mushroom hunting
Mushroom hunting or mushrooming is the activity of searching for mushrooms in the wild, typically for eating. More...

Do Some Mushrooms Have Healing Properties?
Nature has focused remarkable energy in mushrooms. Some mushrooms are delicious, some are hallucinogenic, others are highly toxic, while others are potent medicines. Biologists classify mushrooms as fungi, a group of primitive organisms. Our Western cultural bias has led us to disregard the healing power of the lowly mushroom, but in the Far East the use of mushrooms and other fungi as medicine has a long history. The discovery of the powerful antibiotic properties of penicillin, a common mold, in 1929 stirred considerable interest in the medical community. Then in 1959, an antitumor substance was isolated in the common wild puffball mushroom. Since that time, many mushrooms have been found to have chemicals called polysaccharides that inhibit viral reproduction and stimulate the immune system, according to John Bellew in February 1991 East West magazine. Unlike many synthetic drugs, these natural compounds have no toxic side effects but rather work like gentle tonics, according to Andrew Weil, M.D. and author of Natural Health, Natural Medicine (Houghton Mifflin 1990). Two Oriental mushrooms, shiitake and reishi are available in stores and a newcomer, the Japanese maitake, may soon join these in renown. More...

Searching for 'shrooms
Some mushrooms are magic — and we're not talking about the kind that make you see rainbow-colored garden gnomes running through your kitchen. The Amanita muscaria mushroom is known by the moniker "Christmas mushroom" because of its red cap and white spots. It was believed to "magically" bring Russian nomadic people food during the harsh winter months, mushroom expert Bill Windsor said. The 'shroom is part of the Amanita family of mushrooms, nicknamed "death caps" because some of them will kill you. More...

Dogs and Mushrooms and Gardens
I bumped into a discussion on an organic gardening Internet list about mushrooms growing in a home garden. The discussion centered around whether the gardener should be concerned about her dog and the neighborhood cats being poisoned if they ate them. More...

Mushrooms as good an antioxidant source as more colorful veggies
Portabella and crimini mushrooms rank with carrots, green beans, red peppers and broccoli as good sources of dietary antioxidants, Penn State researchers say. More...

Mushroom Toxins
About 100 species of mushrooms are poisonous to humans, and 15-20 mushroom species are lethal when ingested. No simple rule exists for distinguishing edible mushrooms from poisonous mushrooms. In more than 95% of mushroom toxicity cases, poisoning occurs as a result of misidentification of the mushroom by an amateur mushroom hunter. In fewer than 5% of the cases, poisoning occurs after the mushroom is consumed for its mind-altering properties. More...

Mushrooms: 'the new medicine'
Scientists and doctors are beginning to realize the magic of mushrooms. More...

Return of the Fungi
Pity the wildflower. It tries to impress with its command of the color palette, choosing from memorable pinks, romantic lavenders and riotous yellows. But compared to the amanita muscaria, the average wildflower is, well, average. More...

The Power of Mushrooms
Mushrooms may deserve a spot on the list of cancer-fighting foods. More...

Fabulous Food: Fungi
Mushrooms. Earthy, elegant, rich, meaty.. Extraordinary. Mushrooms fall into the love/hate category. You either love 'em or... not so much. Kinda like George W, Eminem, country music, and Jim Carey. No middle ground. Regardless of which group you inhabit, mushrooms have long been the subject of great fascination. They are found the world over and date back throughout man's history. More...

Food - An Introduction to Mushrooms
Mushrooms belong to the Fungi group. They are fleshy plants that grow from decaying materials. They need the nutrients that they get from the decay because they do not have chlorophyll. This means that they cannot produce their own food. They usually grow in the more temperate regions of the world and during the seasons when the weather is warm and moist. More...

Novice Mycophagist #3
Last year, while walking our southern property at Sand Creek Park, I found a dead, fallen Aspen tree that had a few oyster mushrooms growing on it. It was mid-August, I think, and the mushrooms were well beyond their prime. So, I made a mental note to check the tree, which I dubbed "Oyster Tree" (I have a habit of naming things on the land-there is Picnic Rock, Bart's Creek, Dick the Tree, and so forth), the next year. More...

Edible & Poisonous Mushrooms
EACH SPRING AND FALL, when the weather is warm and rainy and the biggest mushroom flushes of the year occur, my desk at the conservation department overflows with wild mushrooms to be identified. More...

Magic mushrooms hit the God spot
The active ingredient in hallucinogenic mushrooms produces a spiritual experience that can have lasting positive effects, a trial has shown. More...

Mushrooms for Good Health?
I've been trying to include more mushrooms in my diet because I heard you say that they're really good for you. But now I've been told that certain ones are carcinogenic! Can you give me the straight scoop on this? More...

Wild Mushrooms
If you go down to the woods today, you'll do well to go armed with a trusted guide and a sense of adventure. If you're lucky, your reward may well be a basket full of delectable wild mushrooms, a gourmet's delight. More...